PPS – RDS HANDGUN INSTRUCTOR WITH SAGE DYNAMICS
September 23, 2022 @ 8:00 am

-

September 25, 2022 @ 5:00 pm

$600
The optic equipped handgun is not a new concept, though in the last decade technology has improved to allow for the Miniature Red Dot Sight (MRDS) to be reliably mounted to handguns intended for duty and general self-defense carry.  With fundamental differences in techniques between the MRDS handgun and the rifle, instruction on the MRDS handgun presents unique problems for the instructor when introducing their students to proper skill development with their duty or carry MRDS handgun.
The RDS Handgun Instructor course is a culmination of years of MRDS handgun skill and technique development, made available to shortcut instructor trial/error on their own.  This course will provide the trainer with a comprehensive understanding of common MRDS operations and science, as well as concepts and principles for teaching students to best use their MRDS duty or carry handgun.  Students will be expected to meet minimum marksmanship requirements in order to complete this course.
Instruction includes:
Optic science

Optic selection and concerns

Administrative and SOP development for MRDS use (LE)

Duty carry/CCW Carry

Curriculum development for MRDS introduction training

Understanding proprioception, hand/eye coordination and engram development  

Firearm fundamentals applied to the MRDS

Stress inoculation

Threat anatomy

Drawing from IWB/OWB

Tactical and emergency reloads

Austere shooting positions

Maximizing and recognizing adequate cover/concealment/deflection

Primary-hand-only weapon manipulation

Basic movement

Optic malfunctions/handgun malfunctions
Course cost: $600.00
Prerequisites: Dept/Agency/Unit Instructor position.  For non LE students in open enrollment courses, proof of Instructor liability insurance may be required.
Instructor Bio:
Aaron began his career in the United States Army (11M) in 1999, serving seven years in the infantry. During his time in the military he served as a rifleman, squad automatic rifleman and designated marksman; receiving training in small unit tactics, close quarters combat and ballistic and mechanical breaching.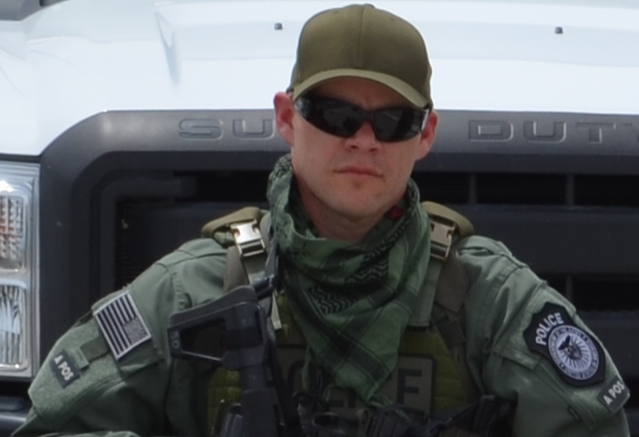 After leaving active duty, Aaron worked as a private security contractor both CONUS and OCONUS; conducting convoy security, close protection details, static security and relief security during natural disasters.
Aaron served over ten years in law enforcement, both Federal and state, working both uniform and plain clothed assignments.  Aaron served as a SWAT/SRT member, Sniper section member, deputy SRT commander, Field Training officer and training coordinator.
In 2011, Aaron formed Sage Dynamics with the goal of maximizing training realism and developing more efficient problem solvers.  Aaron has trained thousands of students since Sage Dynamics taught its first course; every day citizens, law enforcement and military.  Sage has aided in the development of policies and training practices in use by state and federal law enforcement, and private security companies.  Aaron has also been instrumental in driving the adoption of red dot sights on handguns for duty use; He authored the first white paper on the subject and since its publication, it has been used in whole or in part by over 300 police departments world wide to justify the adoption of RDS sights for duty handguns.
Aaron holds multiple certifications including:
National Rifle Association Law Enforcement Handgun Instructor

National Rifle Association Law Enforcement Shotgun Instructor

National Rifle Association Law Enforcement Patrol Rifle Instructor

National Rifle Association Law Enforcement Precision Rifle Instructor

Advanced law Enforcement Rapid Response Training Active Shooter Response Instructor

General Dynamics Simunition Scenario Instructor with Safety Officer Certification

Fabrique Nationale d'Herstal FN-303 Less Lethal Launcher Instructor

California POST certified academy instructor
Aaron continues to serve in law enforcement in addition to being an instructor with Sage Dynamics.