#GETLEARNED 2023 – A FORCE ON FORCE TRAINING EVENT…
April 22 @ 8:00 am

-

April 23 @ 5:00 pm

$825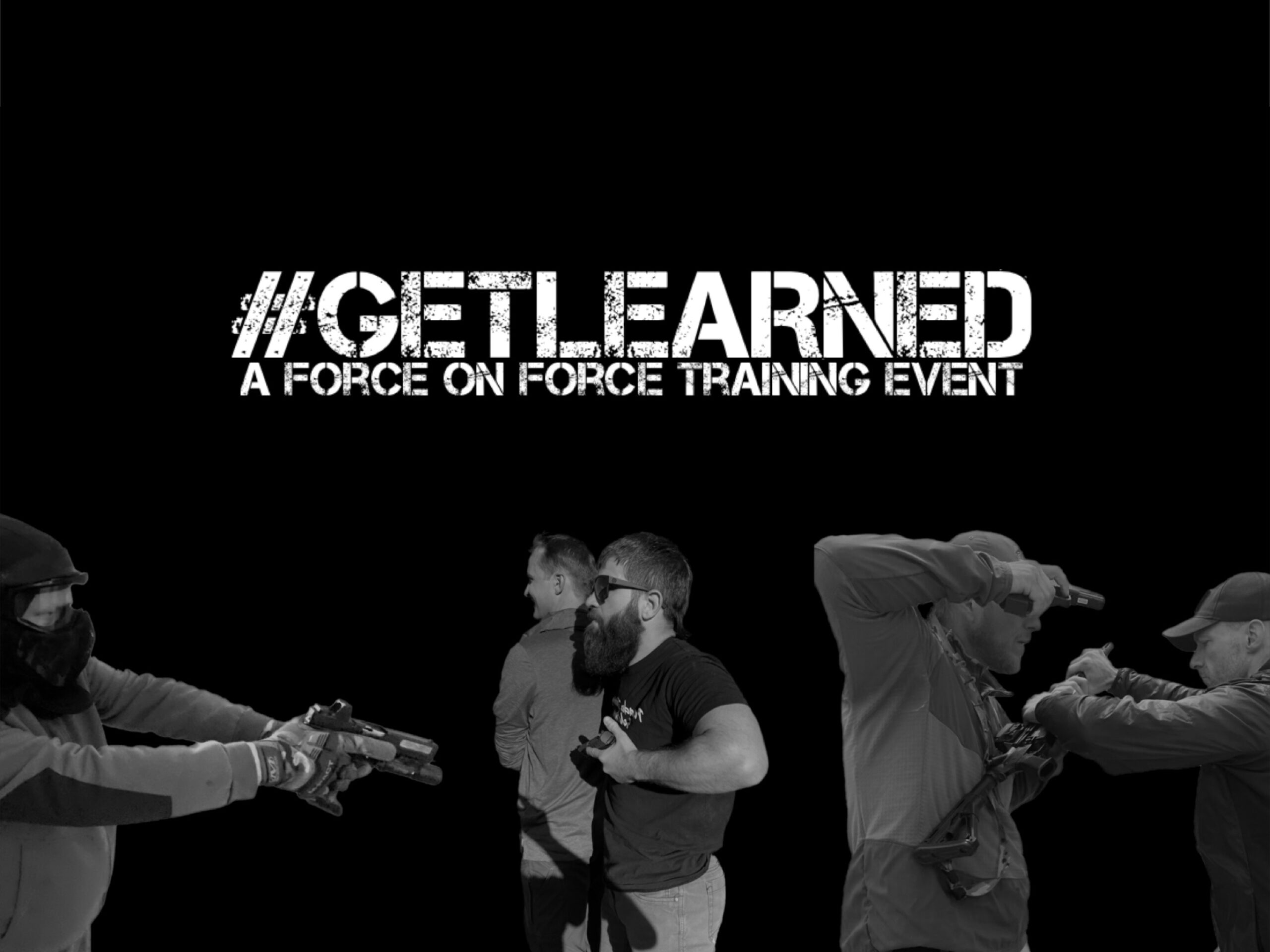 A momentous training event unlike any other… this event will be 2 full days of force on force (FoF) training from some of the worlds most respected instructors in their disciplines. After seeing so many serious shooters, who enjoyed and were passionate about training, but had never had the opportunity to participate in any force on force training, we decided that this event must happen. We are brining a curated selection of condensed FoF training available right here to UT, for a weekend that is surely to build and contribute to the defensive mindset and skillset of the serious self defense practitioner. This event is open to professionals, experts and beginners alike.
All training blocks will be 8 hours of training (with a 1 hour lunch break mid day), so plan on full, exhausting days. Each training block will be limited to 12 students, providing a better than industry average instructor to student ratio to maximize the learning potential. Each student will have the opportunity to sign up for 2 x 8 hour training blocks of their choice – registration for training blocks will be offered in the order of registration for the event, so those who commit early will be more likely to get the exact blocks they prefer. That being said, the event has been planned with only the best training available, so all participants will receive great training.
This is a Non-lethal munition based training event using UTM marking rounds and other training weapons (Provided).
NO LIVE AMMUNITION WILL BE USED.
2023 Training Block Options
Defensive Scenario Based Training – Craig Douglas – ShivWorks
Craig Douglas has an enormous amount of training and experience exposing students to stressful, relevant, and valuable force-on-force scenarios with trained role-players and hit-marking cartridges. In this block, participants will negotiate blind scenarios and be debriefed on their performances. This is an excellent opportunity to participate in and observe others reacting to active, thinking, moving opponents in real-life circumstances.
---
Vehicle Based Force on Force – Bryan Veliz – SlyTac Training Solutions
Over the course of the year, Americans collectively spent 70 billion hours behind the wheel. Each week, average drivers travel more than 220 miles. Add it up and Americans drive an average of 11,498 miles each year- the equivalent of making two roundtrip drives from San Francisco to Washington, D.C. One who carries a firearm every day for personal protection might want to learn how to use said firearm in and around their vehicle.
---
Knife Control Concepts – Aaron Jannetti – Endeavor Defense & Fitness
A committed knife attack tops the charts of "Worst Fears in Close Violent Encounters" in and out of the self defense training world. Each attack, attacker, and situation is different. Training a one-dimensional defense for knife attacks can leave us ill equipped and with a false sense of security. Learning the concepts and skills to adapt is crucial to being able to survive.
---
What's included when you register for #GETLEARNED 2023
Course tuition (choose 2 out of the 3 available training blocks): 16+ hours of world-class training
Lunches for both training days
Training weapons & ammunition (as in, you do not need to provide ANY ammunition for yourself during the event)
Training blade for you to take home after the event
Delegate "swag" bag with goodies & discounts from our sponsors and useful items to use during and take home from the event
Premium event t-shirt (choose your size when you sign up)
Access to future Pew Pew Solutions FoF mini training events
---
Instructor Bios